People
---
Carleton University
---
Chris Joslin
Chris Joslin is an Associate Professor at the School of Information Technology in Carleton University, Ottawa; he has been a Faculty Member since 2005. His research is mainly in video (capture, coding, and transmission), animation capture (face and body, marker and markerless), and audio reproduction (3D spatial audio and procedural audio). He is currently participating in a SSHRC Partnership Grant IMMERSe (dealing with a range of game related issues), a NSERC CREATE HeritageEngineering (focused on Architectural Heritage preservation), and an NSERC Discovery (next generation video coding). He is a member of several Technical Program Committees (Computer Graphics International [CGI], Computer Animation and Social Agents [CASA], Graphics Theory and Applications [GRAPP], IEEE Signal Image Technology and Internet Based Systems [SITIS]) as well as on the Editorial Board for the Journal of Scholarly Research Network Computer Graphics, and the Journal of Creative Interfaces and Computer Graphics. He is also a Canadian Delegate member for Standards Council of Canada (SCC) for Subcommittee 29, Working Group 1 and 11.
---
Ali Arya
Ali Arya has received a Bachelor's Degree in Electrical Engineering from Tehran Polytechnic, Iran, and a Ph.D. in Computer Engineering from the University of British Columbia, Canada. With years of experience in industry as a software engineer and project manager, and also research and teaching positions in various academic institutions, since 2006 Ali has been with the School of Information Technology, Carleton University, Canada, where he is an Associate Professor of Interactive Multimedia. His research interests include Human-Computer Interaction, Educational Technologies, Computer Games and Virtual Worlds, Artificial Intelligence, Computer Graphics and Animation, and Digital Art. Ali's research has been funded by National Science and Engineering Research Council (NSERC), Social Science and Humanities Research Council (SSHRC), Ontario Centres of Excellence (OCE), and industrial partners. Ali is the Associate Director of Graduate Studies in the School of Information Technology, and has played a key role in designing two new PhD and Master's programs in Digital Media. He organizes a series of events and activities for his students such as the Global Game Jam, Creative Jam, and the Information Technology seminars. Ali is senior member of IEEE, a member of ACM, and on the editorial board and technical committees of various journals and conferences in the areas related to his research.
---
Erin Martel
Erin Martel is a master's candidate in the Human-Computer Interaction program at Carleton University. She has been a game designer for over 10 years and her professional background in the game industry informs her research interests. Erin is working with researchers at Carleton to evaluate the player experience in virtual reality games. While virtual reality offers an inherently immersive experience that promotes presence and engagement, Erin is currently studying how self-avatar graphical and motion fidelity can further enhance the player experience. She is also conducting an ongoing project to evaluate the effect of VR control schemes on player performance and experience.
---

Feng Su
Feng Su is a PhD candidate in the Department of Systems and Computer Engineering at Carleton University. He received a B.Eng. degree in Electrical Engineering and an M.A.Sc degree in Human-Computer Interaction. His research interests are in the areas of procedure audio, acoustic imaging, digital signal processing, and computer animation. Currently, he is working on procedurally generated sounds for soft-bodies, where he explores various methods for automatically synthesis of realistic sounds for soft-body interactions in physically-based animation and virtual environments.
---

Tashia Nasir
Tashia Nasir is a Master's student of Human computer interaction (HCI) at Carleton University, Ottawa. She holds a Bachelor's degree in Electronics Engineering. She has a keen interest in Software Development, Human Computer Interaction, Digital Image Processing, Artificial intelligence and Machine Learning. She has worked as a Developer for Moodle based Learning Management System and has completed Embedded Systems projects as part of her academics. Her primary research interests are Digital Image Processing and Computer Vision.
---

Zhao Zhao
Zhao Zhao is a PhD candidate in department of System and Computer Engineering, Carleton University. Her research focuses on using wearable and gamification technologies to promote people's daily activity. She found based on existing technologies and user needs, the idea of employing off-the-shelf wearable activity trackers for gamification of exercise and fitness is feasible, motivating, and engaging.
She further noticed it's important to generate customized workout sessions to fit different user's physical condition and interests. Thus, she extended her research to better understand people's daily activity pattern with machine learning and player modeling. In her latest research, a gamified 24/7 personal fitness assistant system is introduced, it 1) tracks and recognizes user's 24/7 activity and learns its pattern, 2) provides intelligent recommendations on certain sessions of exercise (including the proper time, location, the type of exercise and intensity, etc.,) and 3) uses player modeling and recommender system techniques to generate customized gameplay experience for each individual user.
---
Concordia University
---
McMaster University
Faculty
---
Jacques Carette
Lab Supervisor
Jacques Carette is an Associate Professor in the Department of Computing and Software.  He has dual interests in very formal endeavours (mechanized mathematics, correct–by-construction software and meta programming) as well as more applied work — game design, with some forays in the areas of 'live coding' (for music) as well as 3D videos (also for music).
In game design, his main interests are visual scale and user experience.  Visual scale refers to the impact of the size of the display on the whole gaming experience; understanding the design space well enough to understand of the "user experience" can be held constant across scale is one important research thread.  More generally, what are the psychomotor and cognitive components of the "user experience" of video games is very interesting.
Sometimes, these two strands intersect, such as when code generators are written for producing game families, task analyses are used to generate optimal UIs, or when careful analyses of gaming principles are used as requirements for game design analysis tools.
---
Graduate Students
---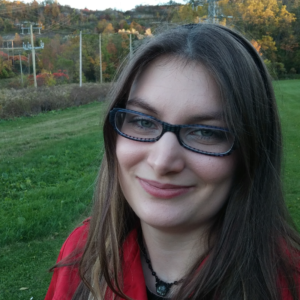 Geneva Smith
M.A.Sc. Candidate, Software Engineering
May 2014 – April 2017
Geneva is a Masters student who completed her undergraduate studies in the Software and Game Design program at McMaster University. Her thesis is exploring the possibility of implementing human emotions into non-player characters to enhance player engagement and entertainment.
---
Sasha Soraine

Mark Hancock
---

---

 Jason Hawreliak
Assistant Professor, Game Studies, Brock University
Jason Hawreliak received his Ph.D. in English from the University of Waterloo. His research examines rhetorics of heroism and immortality in videogames. Other research interests include multimodal rhetoric and the psychological function of digital media. He is the Faculty Advisor to the Games Institute's First Person Scholar.
---

Fue-Sang Lien
---
Kristina Llewellyn
---
---
Jennifer Whitson is the Research Advisor for Execution Labs, an accelerator and investment platform for indie game studios, as well as an affiliated faculty member with the Technoculture, Art and Games Research Centre  (TAG) at Concordia University. Jennifer Whitsonfocuses on games, play, and surveillance. She studies the shifting production models of the global game industry to trace how risk management practices, datamining, and digital distribution shapes developers' creative work and the larger cultural role of games. Apart from teaching a games development course at the UW Stratford Campus and games studies in the department of Sociology and Legal Studies, Jennifer also conducts studio studies: ethnographies of game developers.
Contact Information:
519-888-4567 x30259
Jennifer's Sociology and Legal Studies Department profile
Jennifer's Stratford Campus profile
---
Post-Doctoral Fellow Members
---
Alvaro Uribe
IMMERSe
Alvaro Uribe holds has a degree in Mechatronics Engineering from Mil. Nueva Granada University, Bogotá, Colombia and a Master's and PhD in Mechanical Engineering from Universidade Estudal de Campinas, São Paulo, Brazil.
Through his academics and research career he has focused on virtual reality medical applications for physical training and simulation of various training scenarios. His postdoctoral research focuses on design and implementation of game mechanics in medical scenarios with the IMMERSE network. Which includes a reflex measurement using a car simulator, upper limb exergame for shoulder and elbow, and a lower limb exergame.
---
Deltcho Valtchanov
Psychology
Deltcho Valtchanov is a postdoctoral research fellow with a background in virtual reality, human visual perception, and cognitive and behavioural neuroscience. His past research has focused on how low level visual information influences emotional responses to, and aesthetics of, visual scenes. His current projects are focused on exploring how visual processing of scenes and user interfaces may influence the aesthetics and coherence of interactive media. He is also exploring how digital archives may be "gamified" to tell interactive stories. Deltcho is currently cross appointed with the UW Touchlab and UW Games Institute, and has previously worked at the Research Lab for Immersive Environments (RE.L.I.V.E.).
---
Steve Wilcox
English Language and Literature
Steve Wilcox is a PhD candidate in the English department at the University of Waterloo where he studies empathy, videogames, comics, and rhetoric. His focus is on the use of media for translating knowledge between bodies, communities, and cultures. He is also one of the 25    grad students across Canada to win a $3000 SSHRC award in the "Research for a Better Life:  The Storytellers" competition.
Wilcox is currently researching the relationship between language, media, and normativity. More specifically, he is interested in how media defines and replicates a normative definition of reality and how this impacts what we think of as abnormal and disabled.
He is co-founder and former editor-in-chief of First Person Scholar, a middle-state publication on games studies. He also creates and distributes various digital media projects on his blog at TheDEWLab.com. Steve has also created Allergies and Allegories, a web-based game designed to raise awareness of food allergies as part of his dissertation.
---
Past Post-Doctoral Fellow Members
---
Guillaume Becasier
---
Brian Cullen
---
Jason Hawreliak
Assistant Professor, Game Studies, Brock University
---
Student Members
Shawn DeSouza-Coelho
Shawn DeSouza-Coelho is a Masters student in the Experimental Digital Media program at the University of Waterloo's Critical Media Lab.
Supervisor: Neil Randall
---
Judy Ehrentraut
---
Alex Fleck
---
Michael Hancock
English Language and Literature
---
John Harris
---
Nicholas Hobin
---
Chris Lawrence
---
Cayley MacArthur
Systems Design Engineering
Cayley MacArthur, BKI (Knowledge Integration, Waterloo), MA (English & Systems Design Engineering, Waterloo), is a PhD student in Systems Design Engineering. Her research focuses on human-computer interaction and she is a member of the Touchlab and WaterlooHCI groups. Cayley has captained the Winter and Spring 2017 Game Jams and sits on the Women in Engineering committee as a Graduate representative.
---
Lesley Northam
---
Amber O'Brien
---
Alexandra Orlando
---
Rob Parker
---
Umair Rehman
---
Jonathan Rodriguez
Jonathan Rodriguez is a Ph.D. candidate in the Department of Computer Science.
---
George Ross
---
Gustavo Tondello
---

Elise Vist
---
Emma Vossen
---
Diane Watson
---
Rina Wehbe
---
Amber West
---
Steve Wilcox
---
Community Members
---
Gina Angelea
---
Erica Robinson